Hippie Silk Natural Moisturizing Oil Blend
Regular price
Sale price
$35.00 USD
Unit price
per
Sale
Sold out
Hippie Silk natural moisturizing oil blend is an ultra-moisturizing, waterless, non-greasy oil blend formulated with hempseed and jojoba oils that provide lasting hydration and super silky skin!
SCENT: Earthy and Sweet.  
*All oils in the Hippie Silk natural moisturizing oil blend are a 2 or less on the comedogenic scale. Prone to acne? Coconut not your jam? Try Hippie Silk Natural Moisturizing Oil Blend! 
Click HERE to learn more about Oil Cleansing
Share
Ingredients

Organic Hempseed Oil:
Plumps dry, sagging skin, giving it a more youthful look; reduces fine lines and wrinkles. Contains anti inflammatory properties that reduce redness and minor irritations.

Organic Jojoba Oil:
Easily absorbed by skin, this oil protects skin from the elements and against inflammation. Kills bacteria, and is gentle, making it ideal for sensitive skin types. High in Vitamins B + E as well as many minerals essential for the body.

Organic Extra Virgin Olive Oil (Cold Pressed):
Contains moisturizing properties that help with severe skin dryness such as eczema. Rich in vitamins A, D, K, and E, which promote healthy skin. Contains anti-aging properties that can delay the development of wrinkles.

Castor Oil:
Contains healing properties that reduce inflammation caused by acne, dry skin and sunburns. Stimulates collagen and elastin, and reduces scarring and signs of aging. Promotes tissue growth.

Organic Rose Water:
Contains anti inflammatory and cooling properties that soothe irritation and cool the skin. Contains antioxidants that work to neutralize free radicals in the skin.

Organic Lavender EO:
Promotes skin healing, reduces redness, and promotes blood circulation, which provides more oxygen + nutrients to skin. Tones and firms.

Organic Lemongrass EO:
Antibacterial, anti inflammatory, anti-fungal, antiseptic properties make this ideal for reducing infections on the skin. Reduces excess oil on the skin, shrinks large pores + removes impurities.
How to Use

Use Hippie Silk natural moisturizing oil blend after cleansing and toning as a moisturizer for face and body, or as a great slip, good grip massage oil.
Shipping

Ships within 3 business days.
Natural Product Care

For best shelf life, store in a cool, dry environment away from direct light.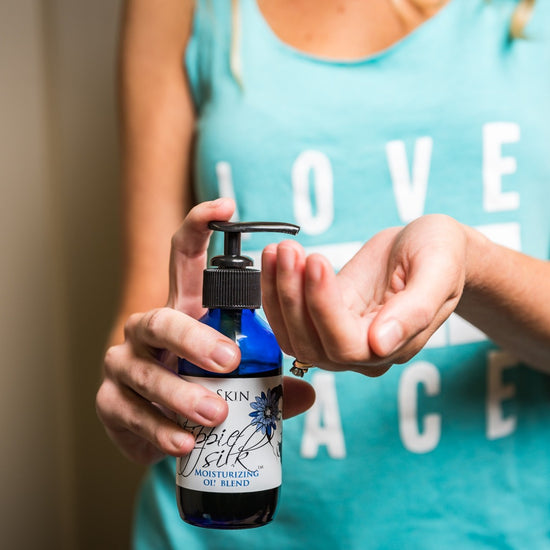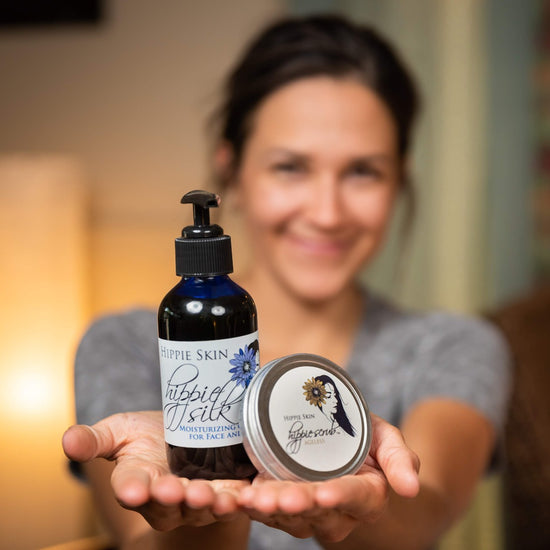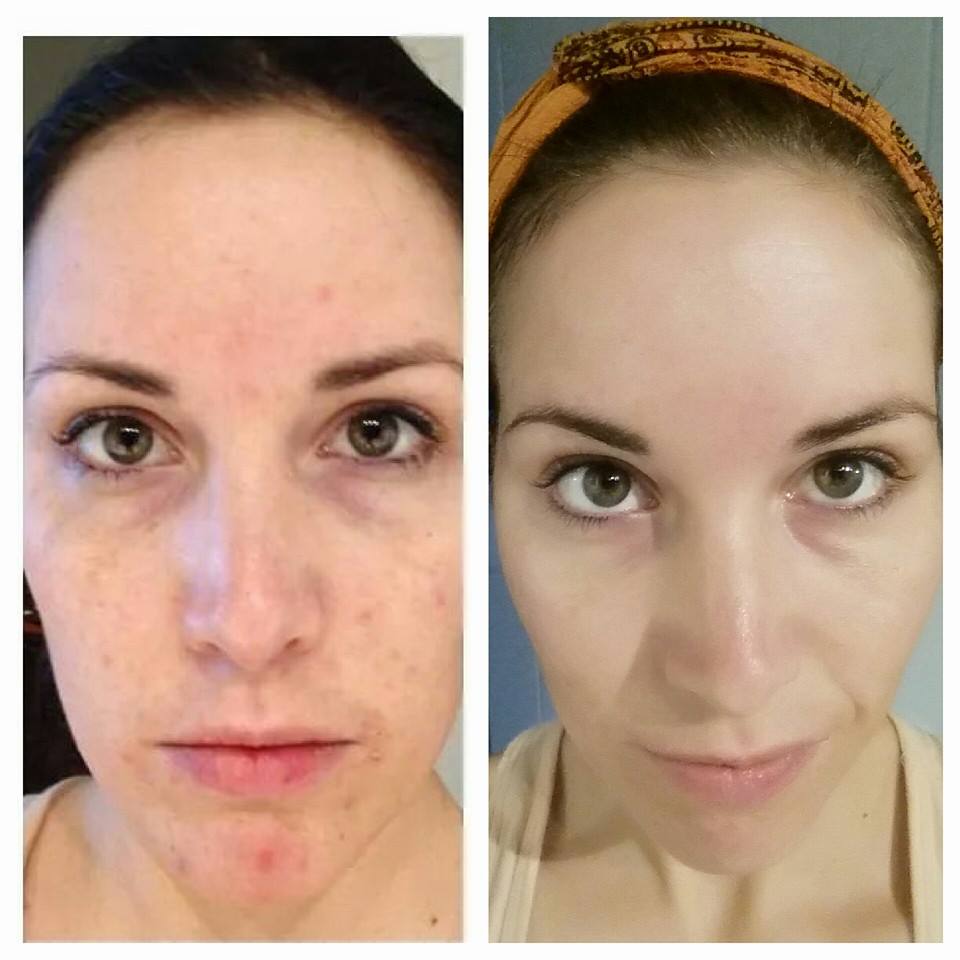 My smaller breakouts and skin pH balanced within just a couple weeks of using the Hippie System natural skincare bundle.  The larger cystic acne took about 6 months to completely diminish.  I love what the Hippie Skin natural skincare system has done for my skin and am happy to be able to offer it to you!
~ Bethany